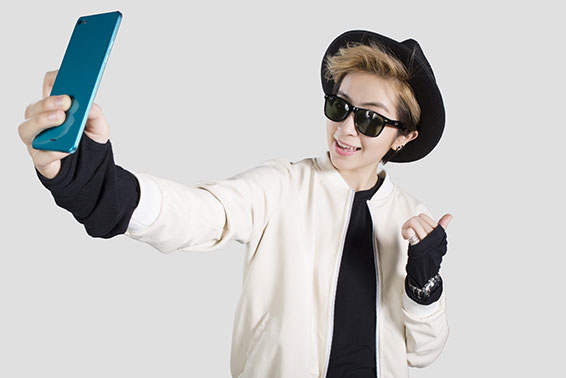 LET YOU DEFINE YOUR SELFIE!!!
With the slogan "Let You Define Your Selfie", Wiko Mobile Vietnam aims to deliver the message: Let the world see the your true self, your real, your social trademark via your simple selfie. Wiko believes with WIKO HIGHWAY PURE, WIKO RIDGE & WIKO RIDGE FAB, each of your selfie will enthusiastically express your social brand, your unique personality that only you own. Living differently and daring to combat all the old paths of the crowd are spirit that Wiko Vietnam would like to inspire to the Vietnamese youngsters.
So how can you get an interesting, extraordinary "Social Trademark" and express your true self with just a selfie? Check this video out to see how Vbiz top celebrities such as Thai Hoa, Thanh Duy, Karik, Hoang Phi, BB Tran… express their unique social trademark:
https://www.youtube.com/watch?v=m3zfnj_i-fU
Send your Selfie – Get to win WIKO each week
From 22 June 2015 to 12 July 2015, send your Selfie photos that express your true social brand, express your leading spirit and unique personality to get to win 1 of 2 WIKO mobiles each week. All photos in this contest should include the official hashtag #WikoSelfie #NoiLamChiSelfieLaHieu. Final results of 6 winners will be announced on 20 July 2015.
See detailed terms and conditions at:
http://tudienselfie.wikomobile.com/the-le-chuong-trinh.html
Explore the Selfie-centric WIKO mobiles
1) HIGHWAY PURE 4G – One of the world's slimmest 4G smartphone from WIKO
Slimline, lightweight, with the world at your fingertips... With a profile of just 5.1 mm and weighing 98 grams, the HIGHWAY PURE also offers smooth 4G navigation engineered by a 1.2 GHz Quad-Core processor and a 4.8-inch HD screen illuminated by AMOLED display technology. HIGHWAY PURE - Simply elegant performance.
2) RIDGE FAB 4G
Behind its 5.5-inch HD Full Lamination display, the FAB RIDGE 4G offers a colourful, user-friendly multimedia experience. Lightweight and elegant and boosted by a 1.2GHz Qualcomm® Snapdragon™ processor, this phablet provides smooth navigation and impressive performance. With its 13-megapixel camera (complete with Sony lens), the RIDGE FAB 4G will allow you to capture your finest moments ... So what are you waiting for? Go ahead and discover the multiple talents of this 4G phablet for yourself!
3) RIDGE
Looks are deceiving with the RIDGE... Behind the 5-inch HD Full Lamination display is an 1.4 GHz Octa-Core processor, boosting its performance. Ultra-light, elegant and easy to use, the RIDGE is also equipped with a 13-megapixel camera with a Sony lens... So what are you waiting for? Go ahead and discover this astonishing smartphone for yourself!
Related products
Other articles in this section: